Journal metrics attempt to determine the impact of a journal by counting the number of citations to articles within the journal. The most commonly used journal metric is the Impact Factor (IF). The IF for a given year is calculated by dividing the number of citations in that year to all items published in the journal in the past two years by the total number of "citable" items in the two previous years. At the end of 2016, Elsevier introduced a new journal metric called CiteScore. CiteScore differs from the IF in two significant ways: [1] it is determined over a 3 year period, and [2] it includes all items in the denominator rather than just "citable" items (see Figs. 1 and 2 below). These differences are in response to criticism that the IF's two-year window is not large enough for all research fields – some fields move slower than others – and that the identification of "citable" items by Thomson Reuters, producers of the IF, is not a transparent process.
---
Fig. 1. Schematic showing how a journal's 2015 CiteScore is calculated. The 2015 IF would include citations in 2015 only to the articles published in 2013 and 2014. Source: https://journalmetrics.scopus.com/
---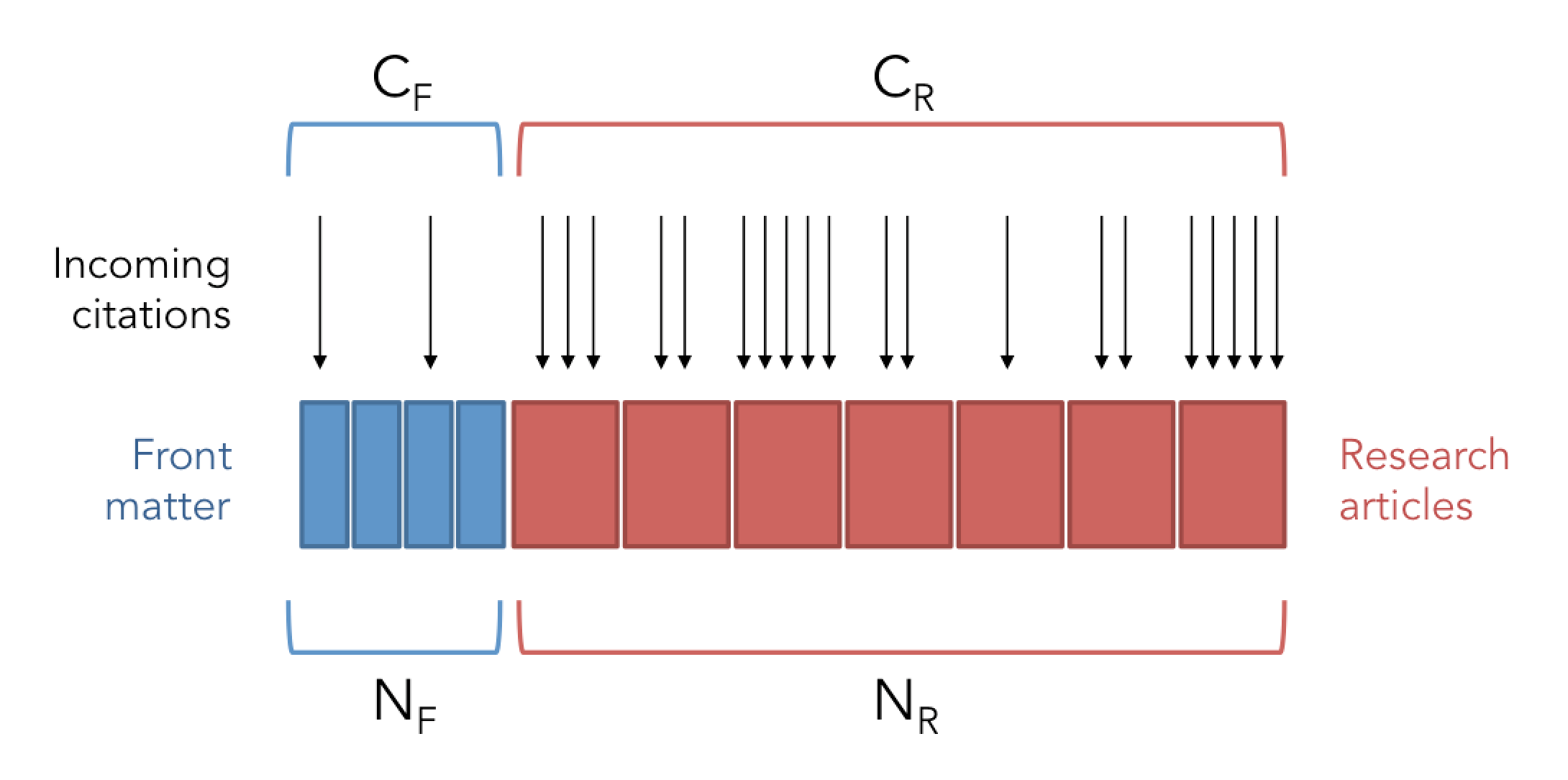 Impact Factor = (CF + CR) / NR
CiteScore = (CF + CR) / (NF + NR)

Fig. 2. Schematic showing which citations and "citable" items are included in the calculation of the IF and CiteScore. Source: http://eigenfactor.org/projects/posts/citescore.php
---
A number of researchers have begun to argue that journals should emphasize citation distribution curves rather than the IF. In the case of Nature's 2015 IF, the vast majority of articles have an impact less than the calculated value of 38.1 (see Fig. 3 below). It is skewed by a relatively small percentage of very highly cited (100+) articles. For more information see the recent paper by Vincent Larivière and co-workers.

Fig. 3. Distribution curve of article citations used to calculate Nature's 2015 IF
Source: Nature, v. 535 (14 July 2016), p. 210–211 doi:10.1038/nature.2016.20224